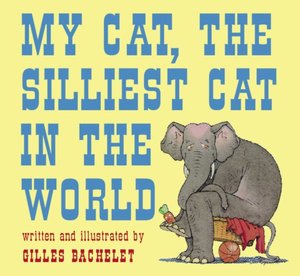 Image from BarnesandNoble.com
Open this book to see Gilles Bachelet's cat, the silliest cat in the world. He might look like an elephant, but he likes to sleep all day, chase balls of yarn and keep fastidiously clean. Cats like to do all of those things, right? And although he doesn't always land on his feet when he falls, the Bachelet is very fond of him. Bachelet wonders if he should have chosen a more colorful cat, this one is such a boring shade of gray and although he's painted many portraits none of them ever sell. Funny though, he's never been able to figure out his cat's breed…
Originally published in French, Bachelet uses short sentences to describe his cat's habits and idiosyncrasies. Although the text uses the word, "cat," the illustrations feature an elephant, which is just plain funny! The illustrations are meticulous and firmly plant the cat in the real world of a loft apartment. Along with a hilarious cat-like elephant, there's humor in the details of the illustrations as well. Elephant knick-knacks, statues, and paintings abound. The furniture and household objects are modernistic with references to Picasso, Magritte, and other famous artists. I especially like the page that features nine "cats" of other colors, from leopard print to calico.
There's something fun about books that let kids correct the adult reading the story. If you read this at storytime, be prepared for kids to shout, "That's not a cat! It's an elephant!" There's also a page where the elephant uses the liter box, so be prepared for some giggles.
Rachel Anne Mencke
suggests telling the story with a completely straight face, never breaking character even when the kids correct you.
-Amy