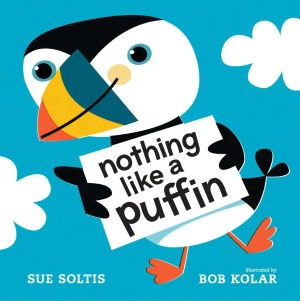 Image from BarnesandNoble.com
Puffin's are marvelous birds. There's nothing like a puffin. Puffins aren't like ladders or houses or newspapers…wait! Newspapers have black and white pages and puffins have black and white feathers! Goodness! And that's just the beginning, the similarities continue. A pair of jeans are like a puffin because they have two legs. A shovel is like a puffin because it can dig. Perhaps puffins aren't as marvelous as we thought. Puffins and penguins are so alike, they're nearly two of a kind…wait! Penguins can't fly, but puffins can! There really is nothing like a puffin.
The puffin's black and white feathers and bright orange feet make it a prime candidate for Kolar's bold style. Color abounds as the small and mischievous puffin makes his way through this book. The text is conversational and full of rhetorical questions, making it a fun read aloud book. Kids who enjoy non-fiction books will probably like the logical nature of this book and the way Soltis shares information about Puffins as the story progresses. I also found myself marveling at how perfectly the font (Caecilia Heavy) compliments the illustrations.
Use this book for a compare and contrast storytime. After you read the book, ask the kids to name other things in the book or in the room that are like a puffin. Then ask what make the puffin different from those objects. You can use this as an introduction to Venn diagrams by comparing a puffin to another object or animal.
If you are using this story with older kids, use this book as a jumping off point to learn about the
Atlantic Puffin
featured in the book, as well as the
3 other types of puffins
. Compare and contrast the species. Why might the Tufted Puffin have different attributes then the Atlantic Puffin? Does this have to do with geography? Climate? Predators? The results of these questions can be used to create charts or diagrams.
If you live near an aquarium or coastal region that has puffins, take a field trip to see the birds. If you live too far away, check out the
Puffin Cam
maintained by the Audubon Society's Project Puffin. It shows live video of puffins May-August and best-of footage during the off season. For more puffin related crafts, activities, and resources, check out
Belinda Mooney's entry
about puffins on Learning Treasures.
If you really want to go all out for a puffin themed storytime, make yourself a
puffin costume
and read the story as a puffin. The pattern is for a kid-sized costume, so you'll probably have to scale up the pattern to fit an adult.
-Amy