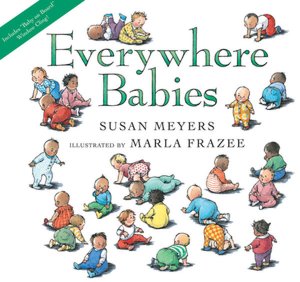 Image from BarnesandNobe.com
"Everyday, everywhere, babies are born ~"
So begins this celebration of babies of all shapes, sizes, and dispositions. Each two page spread features a different action or trait shared by babies all over the world. Sleeping, playing, eating, making friends, and growing. The book begins with the birth and ends with the babies learning to crawl and walk. The final pages show a baby's first birthday and a very messy baby eating birthday cake.
The text and the illustrations are beautifully interwoven. Each line of the text begins with the refrain, "Everyday, everywhere, babies…" and follows up with a list of things in that category. Each item on the list is illustrated, making it easy to point out each item as you read the book. The illustrations are done in Frazee's signature style. Her multicultural cast of characters are realistic and full of personality. It is clear that she not only spent quite a bit of time observing babies in action, but that she has the artistic technique to bring her observations to life.
Use this for a baby storytime and pair it with some baby themed rhymes, such as
Here is a Baby
and
I Can Make My Baby Smile
. The sheer number of babies in this book means that they'll be at least one that kids and parents will connect with and that makes the experience of reading the book even better.
If you're reading this with a baby and an older sibling, have the older sibling help out by pointing out the items mentioned in the text. You can also ask older kids for other items to add to each list. What other foods do babies eat? What other toys do they like to play with?
-Amy