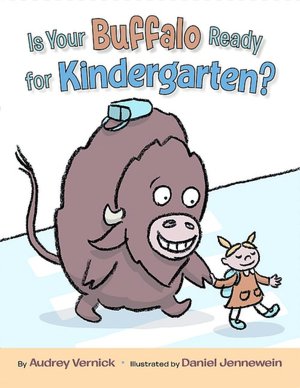 Image from BarnesandNoble.com
Although some people think that kindergarten isn't a place for a buffalo, the little girl in this book knows otherwise. Her buffalo has a backpack, which means he's definitely ready for kindergarten. He may be shy in his new environment because no on else has a hump or horns or a mane, but he'll learn that everyone is special in his or her own way. The girl goes on to identify many possible concerns you might have for your buffalo, such as using scissors, learning to cooperate and take turns, even when someone calls him a Fluppalo, and helping your buffalo look his best on picture day. Although he might have been shy to start off with, your buffalo will learn to love kindergarten. In fact, he may not want to leave at all!
The humorous tone of the text makes this book a fun one to read out loud. There are plenty of rhetorical questions that kids will find hilarious. The illustrations feature slightly exaggerated characters and a buffalo with the most endearing smile I've ever seen. I'm guessing the illustrations were done digitally, but all the lines have a crayon texture to them, which is appropriate to the kindergarten setting.
Use this book as a funny way to get preschool kids ready for kindergarten or read it during the first week of kindergarten. You can also use it as part of a Buffalo storytime and follow up by singing
Buffalo Gals Won't You Come Out Tonight
. Get out those trusty lunch size paper bags and make a
paper bag buffalo puppet
.
Did you know that the buffalo is the Oklahoma state animal? I sure didn't. Who says adults can't learn anything from kids books! Use this book as part of a storytime about the Boomer Sooner State. For more discussion questions and activity ideas check out the
Teacher's Guide
from Vernick's website.
-Amy