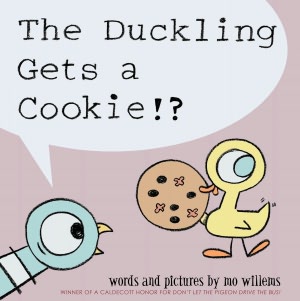 Image from BarnesandNoble.com
Pigeon is back and he's not happy. The duckling gets a cookie just because she asked (politely). The cookie even has nuts! Pigeon is simply outraged. He asks for things all the time, to drive a bus, to have a hot dog party, a French Fry Robot, a walrus, and he never gets what he wants! It's just not fair that ducklings get everything, because Pigeons like cookies, too! Finally, he can't stand it anymore, "Why did YOU get that cookie!?!" The innocent duckling replies, "So I could give it to you."
The illustrations are comprised of crayon-y characters against pale blue and lilac backgrounds. Although the characters are drawn with just a few lines, Willems is able to give them a wide range of expressions. For instance, take a look at Pigeon's eye throughout the book and take note of just how many different emotions he can convey with those two simple circles. The text is presented in speech bubbles, using color and font size/shape to convey Pigeon's emotions. Several of the pages are divided into quarters, sort of like comic book panels.
The wonderful thing about this book (and the
other books that feature Pigeon
) is that the text is so much fun to read out loud. The more outrageously you say Pigeon's dialogue, the more kids will laugh. Check out the
Event Kit
provided by Hyperion Books for Children for discussion questions, games, and other ideas. Also check out
Mo Willems
personal website for fun Pigeon games and activities.
This is a great addition to a storytime about manners. I like it because it doesn't talk down to kids, there aren't goody-goody characters, and it's not sticky sweet. Kids familiar with Pigeon will know that he'll do just about anything to persuade people to give him things, but he's never asked as politely as the duckling.
-Amy