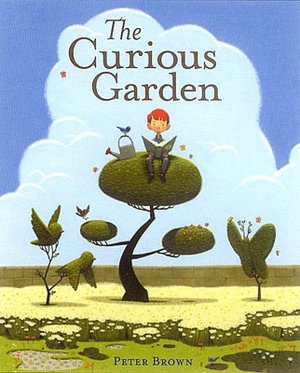 Image from BarnesandNoble.com
Liam lives in a dark, grey city devoid of plants and gardens. Everyone stays inside; everyone but Liam. He loves to explore the city. One day he finds the stairway to an abandoned elevated railway. There he finds a few plants struggling to grow over the old rails. So Liam returns every day to tend the plants.
Soon the garden expands to cover every corner of the railway. The years pass and Liam not only grows to become a better gardener, the garden grows as well. It leaves the confines of the railway and soon there are gardens all over the city, tended by more and more gardeners. Liam sees many new gardens in the revitalized city, but his favorite is the one on the railway where it all began.
The artwork in this American Library Association Notable Book is simply breathtaking. The garden is a character in the story and it's personality is apparent in the illustrations. The transformation from a grey dreary cityscape to a city embraced by urban gardens is especially wonderful to follow. The text is all description, no dialogue, and yet readers are able to connect with Liam and his desire to nurture the garden. Liam is a thoughtful and diligent protagonist and I found myself cheering him on in his early attempts to garden.
The book has wonderful vocabulary building words. Start with the title and ask the kids to help you define the word, "curious." You can then move on to other words in the story, such as "dreary," "delicate," "toll," and "blossomed."
Hachette Book Group has a very detailed and useful
educator'sguide
(the link will download a PDF to your computer). The activities, geared toward children ages 3-6, focus on reading comprehension, environmentalism, and the idea that one person's actions can make a difference.
Pair this book with
The Gardener
for a unit/storytime on bringing nature into cityscapes. Follow up with gardening activities or by volunteering to clean up an urban area.
-Amy