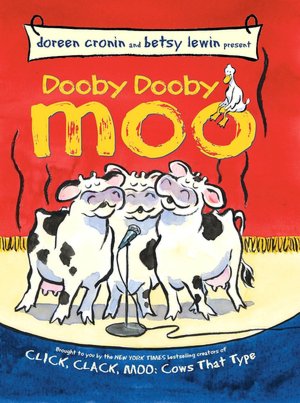 Image from BarnesandNoble.com
Famer Brown keeps a very close eye on his animals. Every night he listens as the cows, sheep, pigs, and the mischievous Duck snore. Duck finds an ad for a talent show at the county fair. First prize is a trampoline, only slightly used. So he gets all the animals to rehearse right under Farmer Brown's nose. At the talent show, the cows and sheep sing, the pigs sleep through their interpretive dance, and Duck wows the crowd with his rendition of "Born to Be Wild." That night when Farmer Brown listens to the animals in the barn he hears them snoring, "Dooby dooby BOING!"
The illustrations are done in Lewin's signature style, with loose black brush strokes and washes of watercolors. At times the plot is pushed forward by the illustrations alone, so you may want to ask kids questions as you go along to be sure they understand the major plot points.
The fun part about reading this story aloud are the animal sounds. Each animal has a distinctive sound, from "Dooby, dooby moo" to "Whacka, whacka quack," and Cronin plays with the sounds with great humor on different pages. The cows and the sheep even use their sounds to sing for the talent show. The text is perfect for
reader's theater
(clicking the link will automatically download a Word doc of the script, please be sure to give credit if you use the script).
The story is also available as an
audio book
with narration by country singer, Randy Travis. If your library has this recording, I highly recommend it.
-Amy