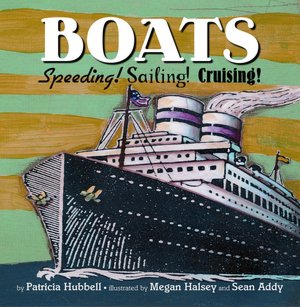 Image from BarnesandNoble.com
Just as the title proclaims, this rhyming book is chock full of boats. Sail boats, trawlers, ferries, battleships, tugboats, and more navigate through the pages of this playful book.
The illustrations were created in mixed media using painterly techniques as well as vintage clip art, hand-drawn images, and old papers. The result is images that are simultaneously retro in feel and quirky in nature. Sharks rent catamarans, fish dance on showboats, and rhinos steer barges.
The main text is filled with fun, but informative, internal rhymes, "Old-time sailing fast ships – beautiful four-mast ships." Although not strictly a non-fiction (the illustrations aren't exactly realistic), the book does include cross sections of boats and quite a bit of labeling (fore, aft, galley, deck, foremast, mainmast, etc.) that will appeal to kids who are interested in facts. It also means you can read just the main text for a quick read aloud or talk about the labels if you have more time.
My boat made out of scrap paper
Read this book as part of a unit or storytime on boats and traveling. Fill up a wading pool or the bathtub with water and make some boats.
Create-Kids-Crafts
has compiled 6 different sailboat crafts; my favorite is the milk carton sailboat. For a cheaper, faster alternative try folding
origami boats
. My brother and I used to make these all the time when we were growing up. The pattern is easy to memorize and they can be made with any square piece of paper.
-Amy