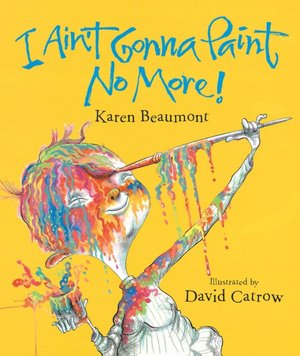 Image from BarnesandNoble.com
One day a boy gets caught painting the walls, ceiling and floor. His mother drops him in the bath tub and tells him, "Ya ain't a-gonna paint no more!" She hides the paints, but the little boy finds them and this time he paints himself! Starting with a glob of red on his head all the way to completing his feet the little boy paints with colorful abandon. Until his mother walks in the room and drops him back in the bath tub, "Y'all don't faint… 'cause there ain't no paint! So I ain't gonna paint no more!"
The rhyming text is set to the tune of
It Ain't Gonna Rain No More
. The second half of the rhyming phrase falls on the page turn, which encourages kids to shout out the answer. The illustrations are a riot of colors in swirls, dabs, globs, and splatters. The characters and settings are rendered in black and white with just a hint of pastel colors. It's the cans of paint that bring color to the pages. It's no wonder the little boy just can't help himself!
This is one of my favorite books to read aloud because it's set to a tune (although it can be just as fun if you read it instead of singing), which makes it easy to memorize. I also think that singing a book is unusual for many kids and the novelty helps to keep their attention. Don't be surprised if they learn the words to the song and sing/read it back to you. See if the kids can help you make up more rhymes for the song or start the rhyme off and see if they finish it.
Try reading this story wearing a white shirt and each time you sing a verse you can stick a paper "paint splotch" onto your shirt. Roll some masking tape to make double-sided tape and have the paint splotches upside down on a table. This makes it easy to reach over and grab one.
After you read this book have a messy paint day. Cover the floor and table surfaces and lay out large sheets of paper for painting. Ask kids to wear old clothes they don't mind getting dirty and provide plastic shower caps to cover their hair. Use non-toxic tempera paint that easily washes off. Provide regular paint brushes, foam brushes, and small rollers to give kids some variety.
You may find that kids paint themselves after reading this book, which is ok as long as you have plenty of wet wipes and their parents approve. Just be sure to keep it away from their mouths, eyes, nose, and ears. To avoid painting wars, make sure to tell kids from the start that they can paint themselves or the paper, but not each other.
For a less messy option, have kids lay down on a big sheet of paper and trace their outline. Then they can paint a paper version of themselves. For even less mess, use crayons and markers instead of paint.
-Amy