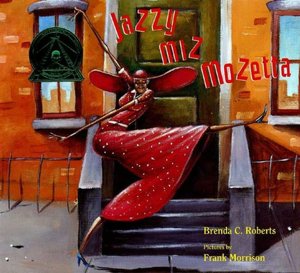 Image from BarnesandNoble.com
It's a beautiful night, so Miz Mozetta puts on her bright red dress, pizzazzy hat, and fancy blue shoes and heads out for a stroll. Miz Mozetta is fascinated by two youngsters dancing to their boom box across the street. She tries to dance with her friends, but they complain their dancing days are over. She tries to join the kids, but they turn her away, thinking she is too old. Sadly, Miz Mozetta goes home and listens to the radio, dreaming of her youthful days "doing the jitterbug, wild and free." All of a sudden there's a knock at the door and her living room is alive with jitterbugging friends, young and old.
Winner of the Coretta Scott King - John Steptoe New Talent Award, this book is full of jazzy, scat-like phrases and energetic illustrations. The text evokes the jazz area and the illustrations push that idea, as well as the story, forward. The characters are exaggerated, with long limbs and distinctive postures. The dynamic painted illustrations explore every inch of available space, making it seem as though the dancers will jump out of the book.
Have a jazz themed storytime (see also my post on
The Three Swingin' Pigs
) and read this story with jazz music in the background. Make sure you pick a song without words so that you aren't competing to be heard. You could also play music as everyone is entering the room and getting settled. It's a great way to set the mood.
Swing dancing is trendy right now, so get the kids up and dancing. If you don't feel comfortable teaching them some basic steps, see if you can find a dance studio in the area that has a teacher who would be willing to come in for storytime. Some kids may not want to hold hands, which is just fine. They can dance facing their partner or even on their own.
For more information on the history of jazz, check out the
PBS Kids Go! Jazz
website. The site is kid-friendly and interactive with a timeline, bios on jazz greats, and a fun jazz quiz.
-Amy