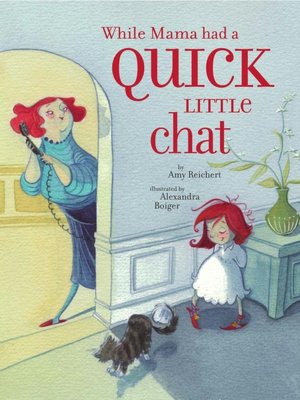 Image from BarnesandNoble.com
It's just before bedtime when the telephone rings. Mama picks up the phone and tells Rose to get ready for bed by the time she finishes her "quick chat" with Uncle Fred. Rose is about to get started when the door bell rings and in rush men to set up a party. She tries to get Mama, who says that she's busy. She tries to shoo them out, but they just won't go. The guests arrive next, followed by waiters, a wizard, and a band. Rose tries to get rid of each one, but instead she gets carried off to help out. Rose is playing a wild rhythm on the drums, when Mama calls that she's about to hang up. Rose rushes the party out the door and runs upstairs, where Mama finds her fast asleep in bed.
The text is full of action and dialogue and each new event is followed by the phrase, "It's hard to believe, but Rose did ALL that, before Mama had finished her quick little chat." The illustrations use a sophisticated palate straight out of the 1920's, embellished with curlicues, balloons, and circles of dancing light. Rose herself is a delight, in a white night gown, argyle socks, and pom-pommed slippers.
Make sure to take the time to examine the details in the book with your kids. See if they can spot the four muscley men throughout the book. How about the wizard?
There are a lot of glowing party lanterns used to decorate the party in the book. Follow up by making your own party lanterns. Try this
Chinese Paper Lantern
. If you have elementary school aged kids, try making
globes with yarn
and paper mache paste. Hang the lanterns on a string to display them as they do in the book.
Serve the food mentioned in the book: tiny hot dogs, cream-cheese swirls, and big pretzel logs. If you're at home, have the kids help you prepare them.
-Amy