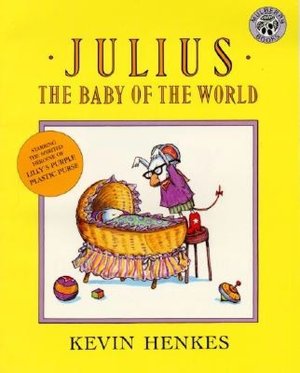 Image BarnesandNoble.com
Lilly was a great big sister, until baby Julius was actually born. Now she has to share her room and be quiet. What's more, everyone oohs and ahhs over him when he gurgles and blows bubbles, but when Lilly does the same, they tell her to mind her manners. Lilly does her best to scare Julius away, but he stays and stays and stays. Her parent's throw a party to introduce Julius to friends and family and Lilly rolls her eyes as everyone coos over Julius. Then she hears Cousin Garland, "I think his wet pink nose is slimy. I think his small black eyes are beady." Lilly may have had the same thoughts, but now it's a matter of pride - this is her brother! She defends Julius and commands Cousin Garland to, "Kiss! Admire! Stroke!" From then on, Julius was the baby of the world in everyone's opinion. Especially Lilly's.
Henkes, a master storyteller, brings his signature illustrations and style to this story about becoming a big sister. Like many of his other books (see my post on
Chrysanthemum
), the book features a mouse protagonist with a big personality. The text uses a repetitive refrain to pull the together the episodes about Lilly as she struggles to accept her new brother.
Named an American Library Association Notable Book, this story is a wonderful gift for an older sibling at a baby shower or a welcome addition to a sibling storytime. Discuss how Lilly feels at the beginning, middle, and end of the book. Ask if anyone is an older sibling and how they felt before and after their brother or sister was born.
Use this book as a vocabulary builder. Henkes uses great words including, dazzled, quivered, ghastly, and glorious. Talk about the meaning of each of these words and make sure to write them on a board or have a large print out of each one so that kids can see how they are spelled and sounded out.
-Amy