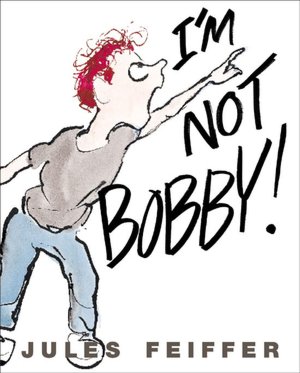 Image from BarnesandNoble.com
Bobby doesn't want to go home, but his mom keeps calling, "BOBBY!" But he's not listening, because he's not Bobby. He's a lion! An airplane! A dinosaur! As his family runs after him, Bobby becomes a horse, a race car, and then a rocket ship that takes him to outer space. His mom says he'll come home when he's hungry and wants to watch TV, but Bobby continues to rocket into the sky. Until he realizes that space is lonely and he's hungry and he wants to watch TV. So he turns into a lion and goes back home.
The free, loose illustrations pop to the front of clean white pages. If you're a fan of
The Phantom Tollbooth
by Norton Juster (one of my favorite books of all time), then you'll recognize Feiffer's classic style.
Bobby's mother never appears in the illustrations; much like the adults in The Peanuts you only hear/see her voice as bold, black writing on the page.
We've all been in this situation, when we just don't want to listen to our parents and stomp off to be independent. Deep down, we know our parents are probably right, but at the time we just aren't listening very well. The message in the story is that it's ok to go home, even if you told everyone that no one is ever hungry on Mars.
Everyone occasionally wishes they were someone, or something, else. After you read the book, ask the kids what they would turn into if they were Bobby and why. If you have the time, you can extend this activity by having kids illustrate their answers or even write a short paragraph about their choice.
If you're reading it at home with an early reader have them read Bobby, while you read his mother's dialogue. Or have two kids perform the roles for the class/group.
-Amy