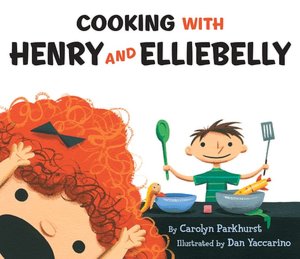 Image from BarnesandNoble.com
5 year old Henry and his 2 year old sister Eleanor, better known as Elliebelly, have a treat for you. Today on their cooking show they're going to make raspberry-marshmallow-peanut butter waffles. Henry does his best to keep the show on track, even though Elliebelly insists that they wear pirate hats and that her dolls need to go swimming in the batter. Finally, after a theme song, a commercial ("Buy some pudding!"), lots of sibling negotiating, and even a bit of pretend cooking, brother and sister troop to the kitchen for some real mom-made waffles.
Yaccarino's illustrations bring a classic 1950's look to a timeless story about getting along with your siblings. I particularly love Elliebelly, her unruly mop of red curls, and her facial expressions perfect for a 2 year old. The page turns come at exactly the right moment so that the reader will get a laugh upon discovering what Elliebelly has convinced her brother to do. If you like the illustrations, check out my post on
The Belly Book
, also illustrated by Yaccarino.
Both characters speak directly to the reader, Henry in black text and Ellie in red text, which makes the book feel very interactive. I like to read it in two different voices. If you've got an early reader in the house have them read one character while you read the other.
This is one of my favorite books about siblings because even though Henry and Elliebelly have disagreements they learn to compromise and negotiate without resorting to name calling or other negative behaviors. Although Henry is often exasperated by his sister, he never tries to exclude her. For another great sibling story, check out my post on
I Will Never NotEver Eat a Tomato
.
After you read the book, pull out some kitchen ware and utensils and let the kids create their own cooking shows. Divide into groups of three or four and give each one a different food to cook on their show. Give them 10-15 minutes to come up with ideas and then have everyone present their show. If you want to stretch out the activity, have each group write out their recipe and draw pictures of what the finished product will look like. You could also have the kids come up with a theme song or commercial.
-Amy