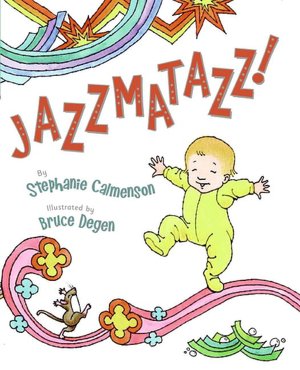 Image from BarnesandNoble.com
The weather is turning cold and a little field mouse scurries inside the house of a family, he runs through the kitchen and to the piano. He jumps on the keys and jazzy music rises from his dancing feet, "Doo-dat, diddy-dat, Diddy-dat, doo!" Soon all the animals have joined in from the dog to the goldfish, each one adding their own colorful and rhythmic addition to the jazzy jam. Next, the humans of the house are sucked into the music. Baby is tapping, Mama is clapping, and Daddy is whistling a tune. Finally, the entire neighborhood, both animal and human, arrives to bring the celebration to a musical finish.
The text of the book trips off the tongue jazzy rhythms and is full of fun words and vocal scatting. The illustrations help to build up the story to it's rambunctious ending. Each animal or human has a different sound they add to the music and each sound is illustrated by a different shape and color. For instance, the dog playing his dish like a drum makes a sound that looks like orange and red fireworks, while the bird tweets yellow comma shapes. Each addition to the soundscape is woven through and around the other sounds.
As you read the book, ask the kids to help you describe each of the sounds. What color is it? Does it have sharp edges or is it rounded?
After reading the story, pull out the art supplies and have each child illustrate what their jazzy sound would look like. Brainstorm some ideas as a group and then let the kids create.
Toddlers and preschoolers are the target age for this book, so follow up with some fingerplays. Try rhymes that use nonsense words, stomping and clapping, such as
Boom Bang
and
Doot Doo Doo Doo Doo
.
-Amy