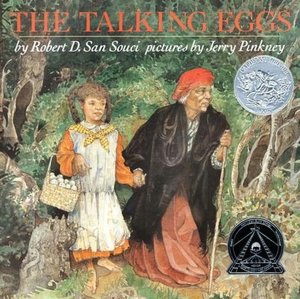 Image from BarnesandNoble.com
This folktale, adapted from a Creole story, tells the story of a woman with two daughters. Rose, is cross and mean, while Blanche is obedient and sweet-tempered, and does all the work. One day Blanche is punished for bringing home warm water from the well, so she runs into the forest. There in the forest is the old woman that Blanche first met at the well. The old woman says she will help Blanche, but only if she promises not to laugh, no matter what she sees. Blanche promises and manages to keep her word although the woman's house is full of strange sights – two headed cows, multi-legged colorful chickens, magic food. The next morning before Blanche leaves, the old woman tells her to go to the chicken coop and to take all the eggs that say,"Take me," but none of the eggs that say, "Don't take me." Blanche obeys and as she walks home she throws each egg over her shoulder, as the old women instructed, and beautiful clothes and other fine things suddenly appear. Her greedy mother sends Rose into the forest to find the old woman and get more riches, but unlike Blanche, Rose does everything wrong. Rose and her mother are run out of town, while Blanche moves to the city to live like a lady.
This Caldecott Honor Book features gorgeous illustrations full of magic. Pinkney's illustrations are fascinating and encourage the viewer to imagine beyond the picture on the page. The cultural accuracy of the illustrations and text bring the rural southern setting to life. The text is perfect for reading aloud. The folktale moral of the story is that goodness will be rewarded, while the greedy and mean will be punished.
As you're reading the story, pause to ask the kids what they would do just before Blanche makes a decision. Would they promise not to laugh? What would they do if they saw an old woman take her head off to comb her hair? Which eggs would they take?
After reading the book, compare it to other good sister/bad sister stories. Bring out a few different retellings of Cinderella and see what elements and characters are similar or different. The Carnegie Library of Pittsburgh has a wonderful
Cinderella Variants Book List
.
Make a set of talking egg cards so you can play memory or other matching games. Have half the deck be Take Me eggs and the other half Don't Take Me. Make the cards big for young kids and set them all over the floor (see my post on
Is Your Mama a Llama?
).
Have an egg hunt. You could also use plastic eggs (plain and colorful) and hide them in boxes underneath pillows. If you have some stuffed animal chickens, but those in your makeshift chicken coop as well. Tell the kids they're looking for plain Take Me eggs, just as Blanche did in the book. If you have color-blind children in your group, be sure to embellish the Don't Take Me eggs with sequins or ribbons so they can play too.
-Amy