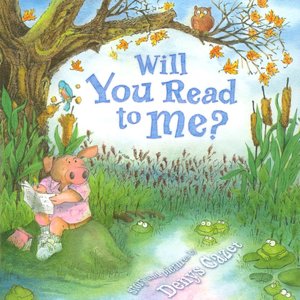 Image from BarnesandNoble.com
Hamlet is a pig who doesn't fit in. Unlike his family, who enjoy wallowing in
the mud, Hamlet sports a spotless shirt and white tennis shoes. He asks his parents to read to him, but they dismiss him in favor of a trough full of swill. Dejected, Hamlet walks to the farmer's pond. Looking into the water, he sees his reflection and decides this must be his twin, Eggs. Hamlet reads poems to the silent, but approving, Eggs until a cloud hides the moon and the reflection is lost in the dark. But the quiet of the night is interrupted by the animals of the forest and pond who ask, "Will you read to us?"
This story not only celebrates the written word, but also lets kids know that there are people out there who will appreciate their unique efforts and talents. The illustrations are full of comic touches that kids will appreciate. Hamlet is a quiet and polite character and his expressions of hope, disappointment, sadness, and surprise are wonderful.
Kids may not know some of the wonderful words used in Hamlet's poem, such as "constellation" and "porcelain."
Take the time to discuss these words as you read the book. After reading the book, go back to the poems and talk about the different elements in the poems. The topics of the poems – the moon, the wind, Hamlet – are universal and provide a great entry into the world of poetry.
Follow up with some fun pig-centric crafts. Grab some pink construction paper or felt and make some
pig ear headbands
(scroll to the bottom for directions). If you have some extra egg cartons in your recycling bin, pull them out and make
pig noses
to wear.
Use this book as encouragement for your older children to read to their younger siblings or even their stuffed animals. Don't worry if they can't really read and make up their own story, it's the act of sharing the reading experience that's important.
-Amy