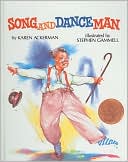 Image from BarnesandNoble.com
A trio of siblings show up at Grandpa's house and he tells them about the good old days, when he was a song and dance man. Up in the attic he shines his tap shoes and sets up the lamps as spotlights and the show is on. Grandpa dances. He sings. He tells jokes and pulls coins from their ears. Grandpa says he wouldn't "trade a million good old days for the days for the days he spends with us." But as Grandpa looks wistfully up the stairs, his grandkids wonder just how much he misses his song and dance days.
Winner of the Caldecott award in 1989, this book is a delightful journey into the bygone days of vaudeville. The illustrations are wonderfully textured with color pencil and the saturated colors bring to mind the multicolored stage lights of Grandpa's vaudeville days. The illustrations bring the joy and laughter of Grandpa's performance to life.
Although this story can be enjoyed without any knowledge of vaudeville, it can also be a great springboard to exploring the rich history of this American art form. Vaudeville was a hugely popular form of live entertainment in the late 19
th
and early 20
th
century. The shows didn't have plots; instead they were made up of different acts – comedians, singers, dancers, animal performers, magicians, novelty acts. Tickets were cheap and there were vaudeville theatres in towns all across the U.S. In the 1920's vaudeville began to recede due to the rising popularity of movies. The
McCarter Theatre
and
PBS/American Masters
have nice summaries of vaudeville information.
Talk with the kids about the format of the vaudeville show, noting the variety of acts they could see in one night. Show James Cagney (as George M. Cohen in the movie
Yankee Doodle Dandy
) singing
Yankee Doodle Boy
, the song Grandpa sings in the book. For laughs, play this clip of a roller skating novelty act,
A Whirl, a Twirl and a Girl
.
Where do we see Vaudeville today? Many TV sitcoms use the same patterns as vaudeville skits and we use
vaudeville slang
every day, phrases such as "a tough act to follow," "knock 'em dead," and even the word, "corny" come from the vaudeville tradition.
Not only can this story be used for a storytime about dance or performing, it shows a wonderful multi-generational relationship between Grandpa and the kids and would be a great addition to a Grandparents Day themed storytime.
-Amy