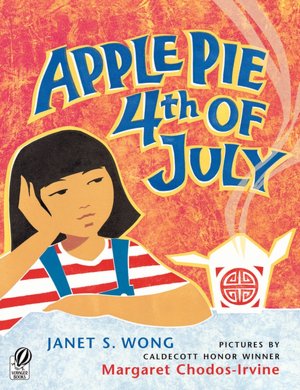 Image from BarnesandNoble.com
It's 4
th
of July and a young Chinese-American girl is annoyed with her parents for keeping their grocery store/Chinese restaurant open. She knows there are many things her immigrant parents don't understand, but despite her repeated protests they refuse to believe that people don't want to eat Chinese food on the 4
th
of July; they want apple pie. As the day passes it seems the girl is correct, "One o'clock, and they buy ice cream. Two o'clock. The egg rolls are getting hard." But at five o'clock hungry customers began pouring into the shop. After the store closes, the girl and her parents sit on the roof, watch the fireworks, and eat apple pie.
Chodos-Irvine's illustrations, created with a variety of printmaking techniques combined with bold colors and patterns, bring to mind traditional Chinese woodblock printing. Along with a Chinese-American protagonist, the illustrations feature people of all shapes, sizes, and races. The text, written from the girl's perspective, is conversational, but not verbose. You can easily imagine a young girl saying these words. The illustrations extend the theme of the story; you don't have to choose between chow mein and apple pie, Chinese and American, there is room in life for both.
Bring this book out for a 4th of July or multicultural themed storytime for preschool and elementary school age children. Although this story features a Chinese-American family the themes are good for the children or grandchildren of immigrants who may find it difficult to figure out how their cultural heritage fits into their contemporary culture. Use this book to start a discussion about the holidays different families celebrate and the foods and traditions that go along with them.
In addition, this book can be used with children who have step-parents and step-siblings. How are the traditions of two families combined? What are the differences and similarities? What new traditions have you created together? As the girl in the book learns, you don't have to choose one way to celebrate. Indeed, life can be fuller because you have more ways to celebrate.
On a personal note, this review is dedicated to my Chinese-American grandparents who came to the United States at a very young age and owned a corner grocery store for many years. Although the store was closed by the time I was born, they made sure I knew, just as the father in the book says, that "Fireworks are Chinese."
-Amy