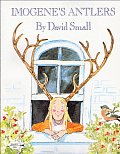 Image from Powells.com
When Imogene wakes up on Thursday she finds she has grown a set of antlers. Although Imogene has some difficulty getting dressed and down to breakfast she is more intrigued than worried. Her poor mother takes it hardest and faints. Despite their best efforts, neither the doctor nor the school principal can figure out what's wrong with Imogene. Although this makes her mother faint again, the rest of her family and their household staff find her antlers quite useful. Imogene falls asleep that night happily thinking of her eventful day. On Friday when Imogene wakes up her antlers have disappeared; only to be replaced by a full set of peacock tail feathers.
The illustrations are meticulous and full of details. I especially love Imogene's brother, Norman, who decides she must be turning into a rare species of elk. He has a wonderfully mischievous twinkle in his eye. Although Imogene is the title character the text is most concerned with describing the events and with the reactions of the other characters. It's through the illustrations that we get to know Imogene, a girl who is enjoying this extraordinary day.
This book was featured on
Reading Rainbow
and the episode includes a great explanation of the difference between antlers and horns (skip up to about 4 minutes on the video). Skip up to 6:45 to watch/hear the story as read by the legendary comedienne, Imogene Coca.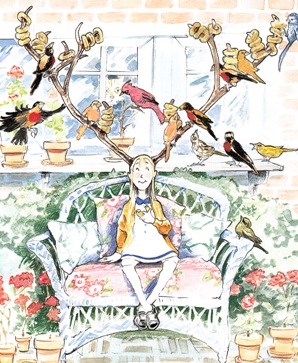 Image from BuildingaLibrary.com
After reading the book talk about the different advantages and disadvantages of having antlers suddenly appear or your head. What about Imogene's peacock tail feathers? An elephant's trunk? A cat's tail? It's a great way to stretch your imagination and get the kids involved. (Skip to 12 minutes in the Reading Rainbow video to see some ideas from kids.)
This discussion can easily segue into talking about the reasons animals have antlers (or trunks or tails or feathers). What is it about their habitats that require these different body parts? Is it to protect themselves from predators? For camouflage? To make it easier to catch or find food? To stay warm or keep cool? Check out the animal and pet section of the
NationalGeographic Kids
website for the answers to these questions and more fun facts.
This book is also a good reader's theater candidate. There can be several narrators in addition to the characters of Imogene, her family, and the servants. Check out
Reading Rockets
for tips on creating your own reader's theater script.
-Amy