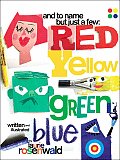 Image from Powells.com
This colorful, shout out loud book is a feast for the eyes. Rosenwald uses collage illustrations and humorous rhyming text to describe the many colorful things in our world. Each color gets the chance to shine with witty rhymes such as this ode to green, "Olive trees pickles peas. But don't eat it, please, if you find it on cheese."
Image from excelsiorfile.blogspot.com
Preschool to elementary school age kids are the perfect audience for this book because they'll really enjoy the clever, humorous rhymes. Write your own poems about colors. Start by choosing a color and making a list of all the things you can think of that are that color. If you're working with a group, you can make a group poem. Write all the suggestions on a white/chalk board. Then create your group poem or have the kids mix and match to write their own.
Image from excelsiorfile.blogspot.com
If you're reading this book with younger kids, try the action rhyme
What Are You Wearing?
This link shows two different versions, both a lot of fun. Talk about different items in the room that match up with the colors in the book and flip back to the corresponding pages in the book to help make the connection.
-Amy