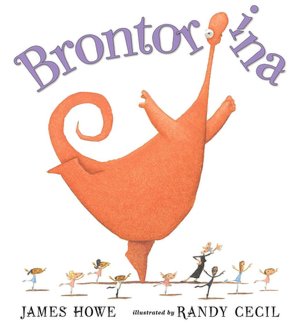 Image from BarnesandNoble.com
Brontorina Apatosaurus is a dinosaur who dreams of becoming a ballerina. She goes to Madame Lucille's Dance Academy. At first Madame Lucille and her students resist the idea of a dancing dinosaur; She doesn't even have the right shoes! But Brontorina is so determined that Madame Lucille cannot refuse. Brontorina gracefully executes her arabesques and jetés, but the simple fact is that she's too big for the dance studio. Madame Lucille is about to turn Brontorina away when one of the dancer's mother appears with dinosaur size ballet shoes. Madame Lucille decides the problem is not that the dinosaur is too big for the studio; it's that the studio is not big enough for Brontorina. Now Madame teaches her students in the meadow of a farm and it's big enough for everyone, humans and dinosaurs, to dance.
This story about following your dreams has colorful and dynamic illustrations. Randy Cecil has managed to make ballet look natural for a dinosaur. There must be something about Cecil's work that catches my eye because this isn't the first time I've blogged about a book he's illustrated (see my post on
How Do You Wokka Wokka?
).
Image from ChildrensBookAlmanac.com
This is one of my favorite stories about ballet for kids for two reasons. First, the ballet class includes boys, as well as girls, and children of all skin and hair colors. It depicts diversity without making a big deal about it. Second, the book emphasizes that dancing is about the desire to express yourself through movement; it's not about your size, shape, or any other aspect of your appearance.
There's also a subtle message about helping each other work through problems. Most of the ballet students want Brontorina to stay and it is the suggestion of one of the kids that leads to the outdoor lessons. You can discuss how the other students in the class helped Brontorina to achieve her dream.
To get everyone up and moving, try
Sur La Lune's
Dino-Poky, to the tune of the Hoky Poky, and the Dinosaur Song. I particularly like the line about stomping in goo! Get your kids up and moving by teaching them the
5 ballet positions
. (Please note that the link shows pictures of a dancers feet. Everyone has a different range of flexibility, so just turn your feet out comfortably. None of these positions should hurt). Best of all, play some classical music and let the dancing begin. Try the
Sleeping Beauty Waltz
, I bet you'll recognize the melody from the Disney movie, or something from the
Nutcracker
. Give out scarves to dance with or try dancing in a circle.
-Amy