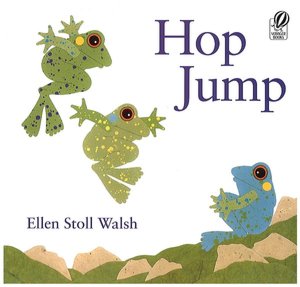 Image from BarnesandNoble.com
Betsy is a frog who is bored of hopping and jumping. So she decides to experiment and soon she is leaping and twisting. Dancing! Unfortunately, her grassy dancing spot is interrupted by a group of frogs who insist there is no room for dancing, just hopping and jumping. Betsy walks off to find another place to dance, but soon the curious frogs follow her to watch. Their watching turns into dancing. When the frogs try to outlaw hopping in favor of dancing saying there's no room for them, Betsy corrects them, "Oh yes, there's room…For dancing and for hopping."
Walsh's cut-paper collage illustrations feature speckled frogs with large eyes and magnificent leg muscles. Although the frogs aren't capable of facial expressions, the movements of their bodies jumping, hopping, leaping, and twirling make up for this inability. The text is concise, with just one sentence to each page.
If your little ones have a lot of energy, this is a fun story to get them up and moving. Try reading it once sitting down and then again while moving around. Each time Walsh mentions a movement in the book, get up and practice it (or just stay on your feet, it's easier). If you've got a roomful of kids, line them up like the frogs in the book and have them hop/jump around the room behind you. Try the action rhyme
Five Little Froggies Go Hop
.
Once you've got some of your wiggles out, use the action rhyme
Hop and Twirl
to get everyone settled down, you can talk about the story. Betsy wasn't afraid to try something new, even though her friends weren't supportive in the beginning. This is an especially nice talk to have before starting a new class or activity that your child might be unsure about.
You can also discuss the diversity in the story. Talk about the idea that there's more than one way to do things, just as you can hop, jump, and dance. You don't have to choose just one; you can try different ways to see how they work. Ask the kids for examples of this idea, such as there are lots of different ways to make a pizza or the many ways you can song a sing (fast, slow, high, low, etc.).
A few frogs I made last night


Origami hopping frogs
are the perfect craft match for this story. This video shows you how to make the frog with an index card, but you can use any rectangular piece of paper or you can fold a square piece of paper in half to make a rectangle. Experiment with different weights of papers. Heavy papers will make better jumpers. I would also suggest that your rectangle be at least the size of an index card (3"x5"); the smaller the paper the harder it is to fold. You can also recycle your old Christmas and greeting cards, just cut them in half and they're the perfect size. They also make for colorful frogs. In the picture to the left the white frog is made from an index card, the green frog is regular weight paper, and the bluish one is an old Christmas card.
-Amy